Corona
UNFORTUNATELY, OUR EMERGENCY SHELTER IS CLOSED BECAUSE OF CORONA
OUR HELPING TOURS WILL CONTINUE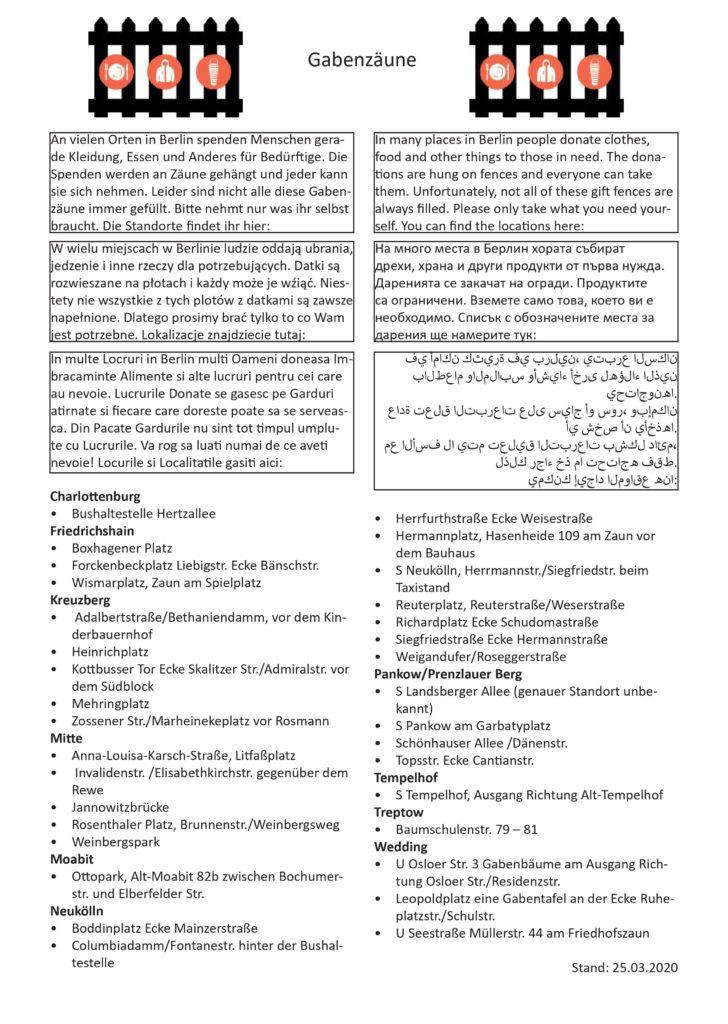 If you are homeless or in danger of losing your home, there are many places in Berlin you can go to that specialise in different fields that can help you with your situation.
If you are threatened to lose your home or if you currently do not have one, the normal first step would be to notify your relevant Amt für Soziales (Social Bureau).Here you will find more information. You can also visit the Zentrale Beratungsstelle für Menschen in Wohnungsnot (Central Counselling Centre for People at Risk of Homelessness).
Here you will also find the current complete Kältewegweiser (Guidebook for shelters) as PDF.
The help portfolio of the Berliner Obdachlosenhilfe e.V.
The Berliner Obdachlosenhilfe e.V. does not currently offer any counselling or support centre for homeless people but primarily low-threshold support.
Our Helping Tours
You can come to our delivery points at Alexanderplatz, Leopoldplatz, Kottbusser Tor und Hansaplatz. There you will receive a warm meal, sandwiches, sweets, clothing, sleeping bags, backpacks, and toiletries. Here you will find all the relevant information about our helping tours.
Our Emergency Shelter/Sleeping facilities
!UNFORTUNATELY, OUR EMERGENCY SHELTER IS CLOSED BECAUSE OF CORONA!
Every Tuesday and Friday we offer in our facilities at Lynarstraße 38, 13353, Berlin-Wedding (Train Station Wedding) an emergency shelter with an all-night café.
Where? Lynarstraße 38, 13353, Berlin-Wedding (S-Bahnhof Wedding)
When? Tuesday and Friday 7 pm-10 am
Entry 7pm-9pm
Who? all gender, religions, and nationalities!
Extra rooms for women available
15-20 persons maximum
What? Shower, Evening meal + breakfast; tea/coffee at all times
Contact: 030/23544217