We frequently receive questions from people that would like to help a homeless person but do not know how to do it.
Here we have prepared a brief guide on how to behave with homeless people.
Approach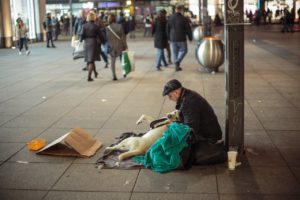 When you see a homeless person you are concerned about, just approach him*her directly. Ask if they need help or anything else. This might seem difficult at first, but it is really very easy. However, do not be offended in case the person does not want to accept your help and respect their wish.
If the person is unresponsive or in danger, do not hesitate to call the emergency services under 112.
By the way: The same as you, homeless people would be delighted by a little "Hello, how are you?" or a friendly smile and your sincere attention.
2. Food or money?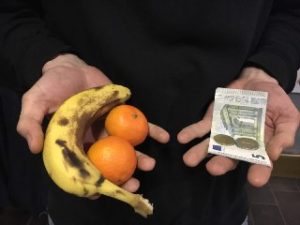 Many people ask us if it is alright to give money to a homeless person or if donating goods would not be a better option. We, as an association, clearly state: Of course it is alright to give money to a homeless person. Even at the "risk" of the person buying alcohol, tobacco or other drugs with this money.
Because: Homelessness often involves an addiction. By means of monetary donations, you will save these persons from an involuntary abrupt withdrawal.
Moreover: Who does not like to decide on how to spend their money?
However, if you decide against giving money to a homeless person, but you still would like to help, just ask them: " I do not have money but can I help you in any other way?" and listen to them or buy them something that they want to eat or drink.
You can of course also help by engaging with us and by helping at our premises with the preparation of food, its delivery during our tours or by donating money to our association.
3. Who helps directly?
We, as a homeless charity, provide homeless people and people in need with warm meals, hot tea and coffee, warm clothing, and sleeping bags during our three tours a week. However, looking after persons individually goes beyond our limited possibilities as volunteers.
If you run into a person that you think might need help, ask them first if your help is welcome.
From the 1st of November until the 31st of March, the Kältebus der Berliner Stadtmisssion is in transit on the streets from 7 pm to 3 am. They provide people in need with hot beverages and sleeping bags or they bring these persons to an emergency night shelter. The "cold bus" can be reached under 0178 523 58 38. Please ask the homeless person in any case before if they wish to accept your help.