!Corona-Virus!
To ensure the continued care and provision of food to our guests, we have decided that our tours (as well as the preparation of food) will exclusively be carried out by our core team. This means that until further notice we will not be accepting new helpers.
Stay healthy and stay home -if you still want to help, help locally. You can find here an overview of solidarity neighbourhood support groups in Germany: https://listling.org/lists/pwfjfkpjmesjjinm/solidarische-nachbarschaftshilfe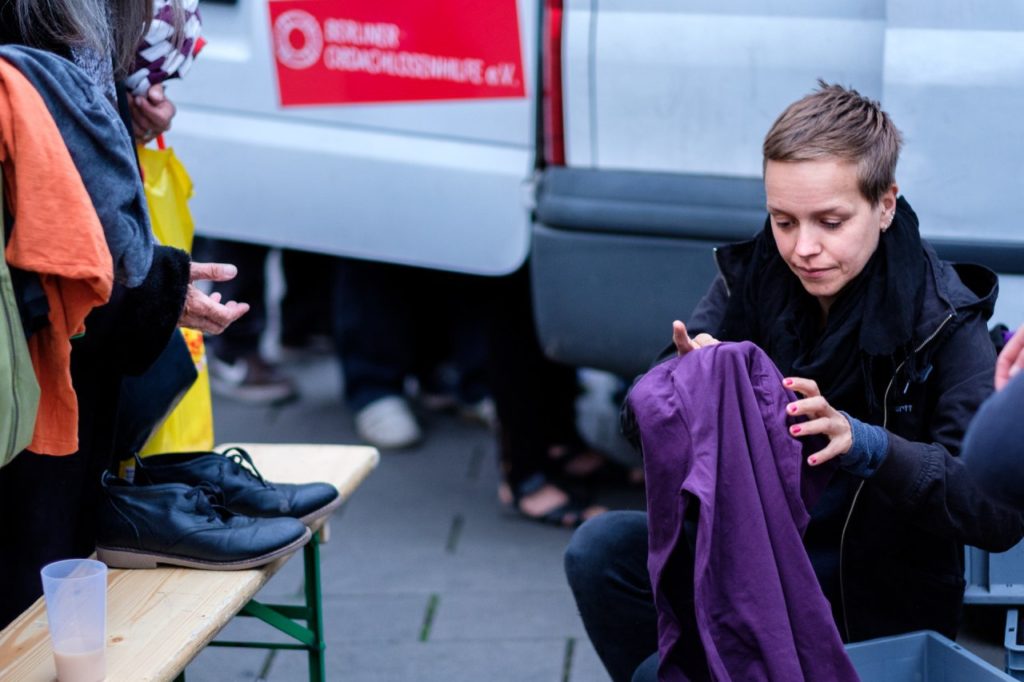 Every Wednesday, Saturday, and Sunday we go out on tour and deliver at different locations warm food and clothes. For that, we meet beforehand at our premises so that we can prepare the food, brew the coffee and sort out the clothes.
All kinds of help are welcome! We will always be able to find a task for you.
Important! If you want to help, you do not need to let us know beforehand or apply for it. You can come and go at any time. It can happen that we do not always arrive punctually at our delivery stations or that we leave earlier. Therefore, it is better if you do not arrive at the very end so that you do not miss us. We look forward to meeting you!
If you do know that you will be joining for sure, please sign in to our shift schedule.
If more than 10 people are already signed in for a shift, it would probably make more sense that you choose another day.
The timetable of a tour on Wednesday and Saturday (Leopoldplatz, Alexanderplatz, Kottbusser Tor)
13:30 – 17:15 Preparation at our location (Lynarstraße 38, Wedding)
17:15 –18:00 Loading of the car and planning of the tour
18:00 Departure
18:15 – 19:00 Distribution at Leopoldplatz location
19:15 – 20:45 Distribution at Alexanderplatz location
21:00 – 22:15 Distribution at Kottbusser Tor location
22:30 – 00:00 Washing up at our location
The timetable of a tour on Sunday (Hansaplatz)
15:30– 17:30 Preparation at our location (Lynarstraße 38, Wedding)
17:30 – 18:00 Loading of the car and planning of the tour
18:00 Departure
18:15 – 20:00 Distribution Hansaplatz location
20:15 Uhr – 21:00 Washing up at our location